EXIT &nbsp
40th Reunion invitation, registration form,


maps & driving directions.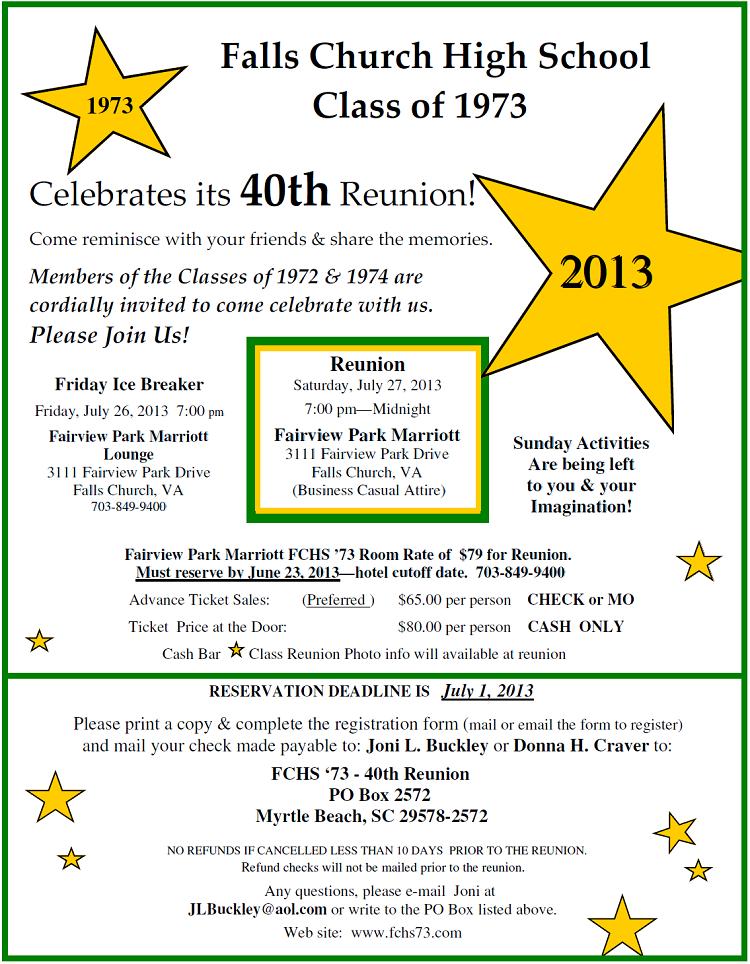 TOUR OF SCHOOL: A tour of the high school has been arranged for the morning of Saturday, July 27, 2013 at 11:00 am. Lets meet at the school around 10:45 am. Grevey's for lunch afterwards. Lunch at Grevey's is not included in the reunion ticket price. Each person to pay their own way.

center> Note: Use your browsers BACK key to return from clicked on PDF documents below.

Large Map Click here for printable PDF

Zoomed in Map Click here

Written directions to Fairview Park Marriott Click here

Invitation (shown above) Click here

Registration Form Click here

Room Reservation Info. Click here



Fairview Park Marriott Room Reservation Information

The phone number to call is 1-800-228-9290 and guests can ask for the
"Falls Church High School 1973 40th Class Reunion room block."

For those who would like to book online through the hotel's web site click on:

Click to go to Marriott's site

The Group Code to type in the "Group Code" box is FLSFLSA.

The room rate should be $79 for our reunion.